CBD Oil for Dogs: Dosage Chart and Newbie Guide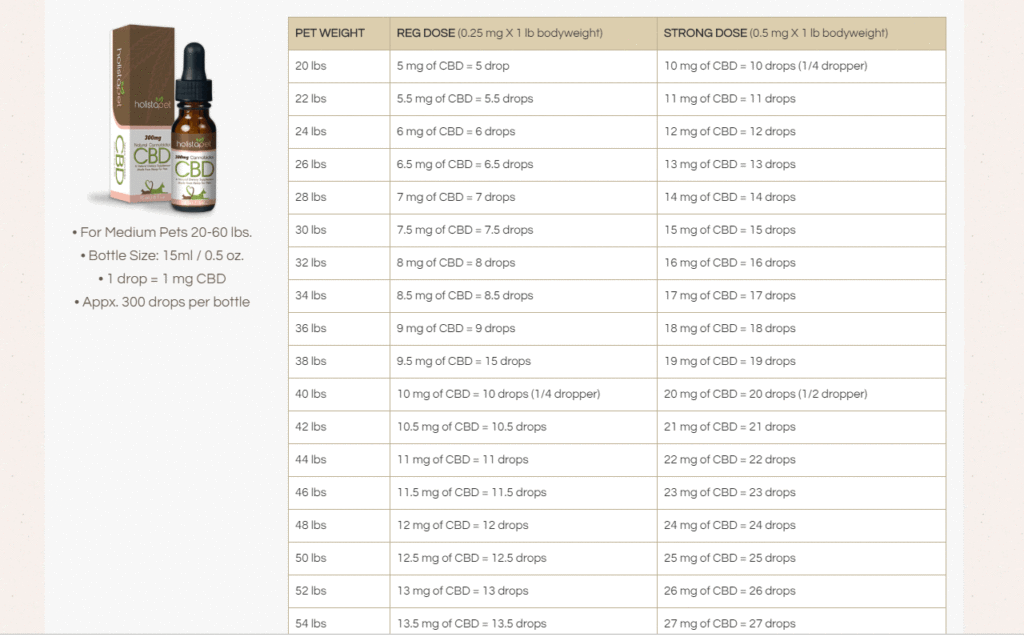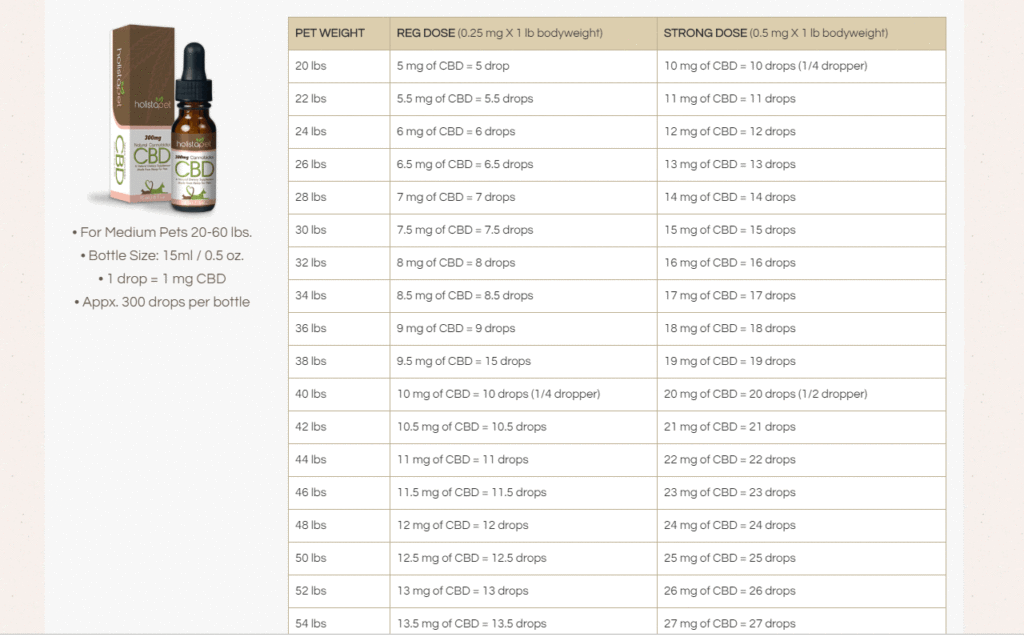 If you're looking for a natural, healthy way to support your dog' s physical and psychological health and well-being, CBD oil is an excellent choice.

CBD oil can be useful for dogs with a wide variety of health conditions. Some of these include pain (chronic or acute), allergic skin diseases, blood sugar problems, anxiety and depression, bacterial and fungal infections, seizures and more.

But how much CBD oil do you need to give your dog? This guide will help you figure out the correct dosages for your pet.

How Much CBD To Give?

The precise amount of CBD which you need to give your dog depends on a variety of different factors.
There is no one-size-fits-all answer to this question!

Here are some of the main factors which influence how much CBD oil a dog should receive:
The dog' s size and weight.
The brand of CBD oil product you are using.
The form of the product (capsule, tincture, etc.).
The concentration of the product.
The condition which you are treating.
A small dog which is being given CBD oil for general health maintenance should not be given the same amount as a large dog that needs CBD oil to treat a chronic condition. Right?

So the first thing you need to do is decide on a brand of products to use. You will then need to choose what form of CBD oil you want to try.

Once you have done that, you can look up the recommendations specifically for that product. This will ensure that you are giving your dog the proper amount of CBD oil.

Example Dosages of CBD Oil for Dogs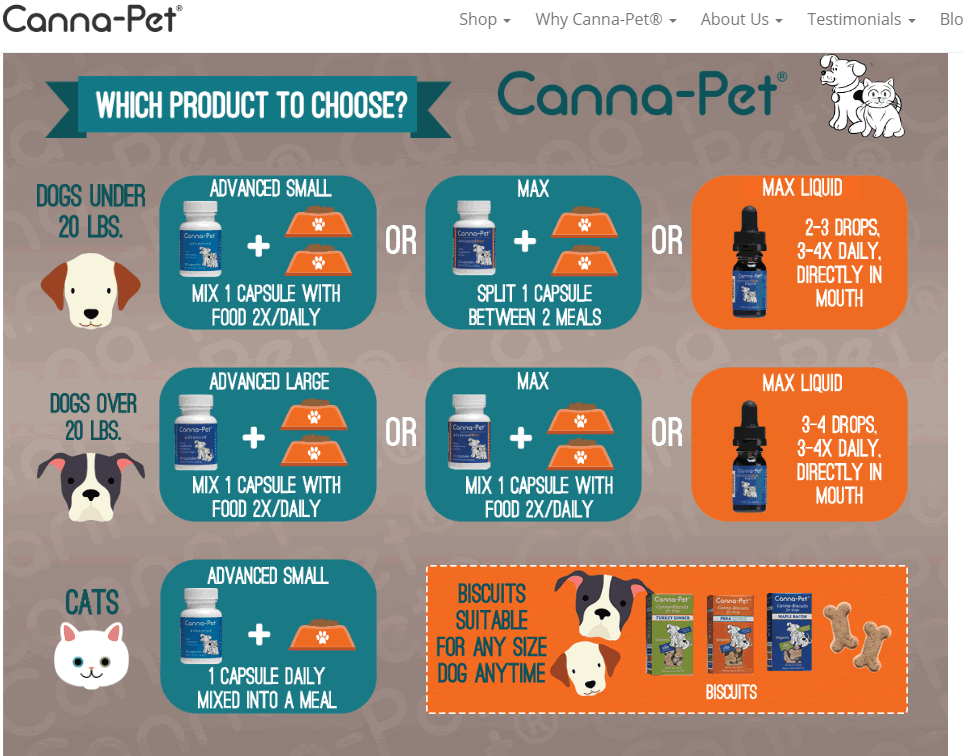 Presumably, however, you are looking to read something a little bit more specific than what I have just discussed above.

So let's go over some example dosages. Specifically, I will talk about the dosages you should be using for your dog if you are choosing the Canna-Pet brand. Canna-Pet is one of my top recommendations for CBD oil for pets.

Dogs Under 20 Pounds

If your dog weighs less than 20 pounds, Canna-Pet recommends any of three products:

Advanced Small
Max
Max Liquid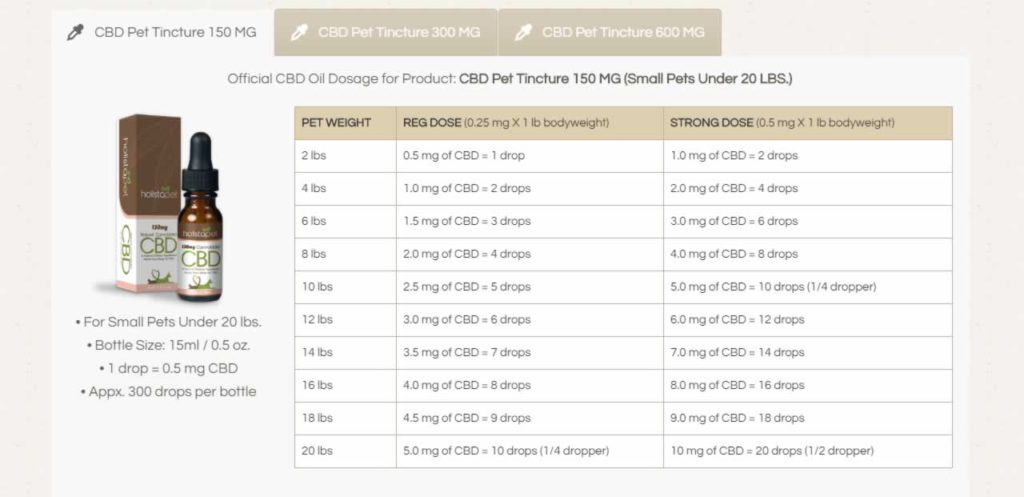 The Advanced Small and Max products are both CBD capsules. Let's go over the dosing for each of these products.

Canna-Pet Advanced Small

A bottle of the Advanced Small formula contains 60 capsules, each made out of 100% organic hemp and containing 170 mg.

You can give your dog up to two of these capsules each day. You need to space them out at least 12 hours apart.

You can decide based on your pet's response to the CBD capsules whether one or two servings a day is most helpful.

Canna-Pet Advanced Max

This is a more highly concentrated CBD capsule. Each contains 510 mg and is made from 100% hemp. There are 30 capsules in a bottle.

You can give your dog a single capsule of this formula each day. You will want to divide it across two meals.

Advanced Max Liquid

If you prefer to go with a liquid CBD product rather than a capsule, you can try this formula from Canna-Pet.

Your dog should be given this product 3-4 times a day. Each time, the serving size should be around 2-3 drops (about 0.1 ml).

Dogs Over 20 Pounds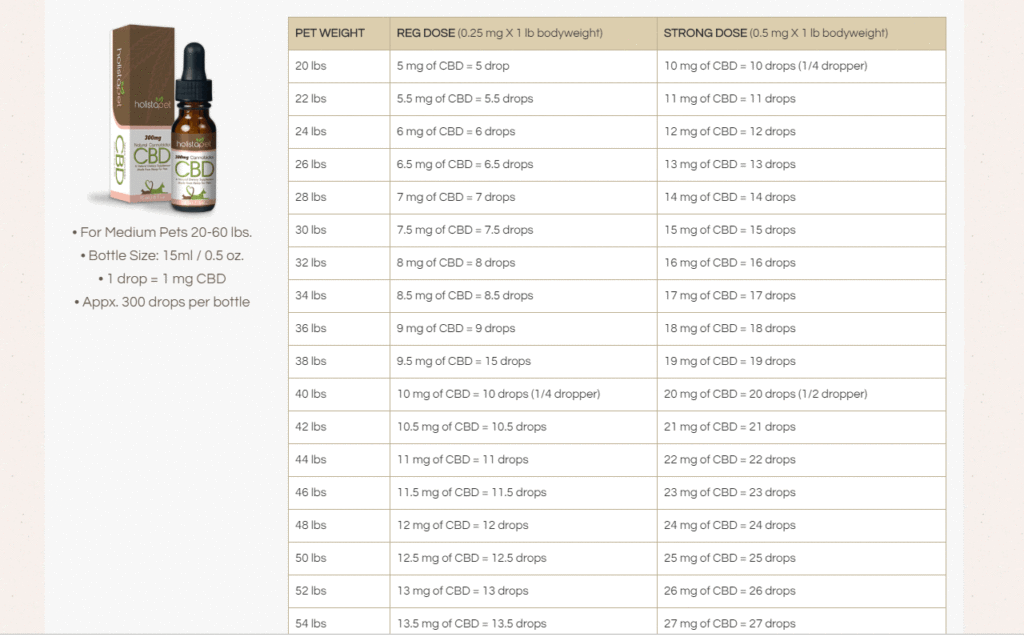 Now that you are familiar with Canna-Pet's product line for dogs and you know the serving sizes and frequencies for dogs which are under 20 pounds, let's talk about the serving sizes for larger dogs.

Canna-Pet Advanced Large

This is the equivalent of the Canna-Pet Advanced Small product discussed previously, only it is formulated for dogs which are over 20 pounds.

Each bottle contains 60 single serving capsules which contain 100% organic hemp and provide your dog with a 170 mg dose.

The exact amount that you should give your dog depends on which weight bracket it falls into.

20-95 pounds: 1-2 capsules a day
95 pounds and up: 2-3 capsules a day
Capsules are to be given every 8-12 hours.

Canna-Pet Advanced Max

Now let's talk about the dosages for the same Canna-Pet Advanced Max we discussed before.

As a reminder, each of these capsules provides 510 mg.

If your dog weighs more than 20 pounds, you should administer two capsules a day. These should be served separately and should be taken with food.

Advanced Max Liquid

Finally, here is the same liquid CBD product which we talked about for in the section above for dogs under 20 pounds.

For dogs over 20 pounds, 3-4 doses a day are appropriate, just as for dogs under that weight.

But with larger dogs, you can give 3-4 drops with each serving instead of just 2-3.

Organic Advanced Formula Canna-Biscuits – Hemp CBD Dog Biscuits

Canna-Pet also makes treats for dogs. The company states that these biscuits are appropriate "for any size dog anytime."

Again, these are just examples for one specific brand of CBD products for dogs. Every brand and every product has its own directions for dosages based on the concentrations contained in that product.

Let's Review

Now that you've seen some examples, let's go over the key points again for giving your dog the proper dosage of CBD:

First, you need to know how much your dog weighs.
Secondly, you need to decide on what form of CBD to give your dog (treat, tincture, capsule, etc.).
Thirdly, you need to select a brand and product.
Fourthly, you need to read the directions with care and follow them to choose the appropriate dosages.
You probably noticed that in the examples, there was some leeway with how much you can give your dog. For example, take the recommendation to give a dog over 20 pounds 3-4 drops per serving of Canna-Pet Advanced Max Liquid.

How do you know whether to go with 3 drops or 4?

I would recommend that you simply start with the smaller amount, and see how your pet reacts.

If your dog is tolerating the CBD well (which is generally expected), you can either stick with that dose, or you can try increasing it.

You may need to increase the dose if you are trying to deliver a "therapeutic dose" rather than a maintenance dose.

Again, a dog with severe anxiety or painful arthritis or another stubborn condition is probably going to need more CBD than one which is in relatively good health.

Conclusion: Figure Out Individual Dosing for Your Pet

You should now have a good general idea of what you can expect as far as dosing is concerned for CBD for pets. You will need to consider your dog's specific build and needs, and then look up the appropriate directions for the product you are giving a try. This will ensure that you are giving your dog a dose of CBD which is safe and effective.