Even though our site is focused mostly on CBD oils for dogs, I am aware that some of you may also own other pets, including horses.
As a horse owner, you might be wondering whether you can give your horse CBD, and if so, what types of CBD products for horses are on the market.
In this article, I am going to tell you about the types of horse CBD supplements which are out there, and I'll introduce you to some quality products from reputable brands to consider.
But first, let's go over CBD oil for horses basics so that you know how your horse can benefit from this supplement.
Yes, CBD Oil Is Good for Horse Health
In case you are not all that familiar with CBD oil, CBD is a cannabinoid called "cannabidiol."
This compound acts on a system of receptors in the body called the endocannabinoid system, or "ECS" for short.
You have such a system, which is why you are able to benefit from CBD oil. So does your dog and your cat. And guess what? Your horse also has an endocannabinoid system.
Key Point: Your horse has an endocannabinoid system, just like you do. That means that CBD can act on that system to produce therapeutic benefits.
Conditions You Can Treat In Your Horse With CBD Oil
Research is in the early stages and is ongoing regarding the health benefits of CBD oil in humans and animals.
That means that the majority of the evidence at this time is anecdotal, but there are some solid studies backing some of CBD oil's advantages for health.
The reason that research on CBD oil is so far behind has less to do with CBD's potential, and more to do with policy issues.
Here are some of the conditions which horse owners treat in their animals using CBD oil:
Arthritis and joint pain. A number of animal studies have been conducted on using CBD to treat arthritis with favorable results. For example, this 2015 study concluded, "These data indicate that topical CBD application has therapeutic potential for relief of arthritis pain‐related behaviors and inflammation without evident side‐effects."
Epilepsy. There is also significant promising research concerning CBD oil and epilepsy. To quote one such study, " Compared with THC, cannabidiol (CBD) shows a better defined anticonvulsant profile in animal models and is largely devoid of adverse psychoactive effects and abuse liability."
Pain relief. Research shows that "cannabinoid induced antinociception is more effective in alleviating pain than opioid drugs."
Diabetes. By curbing inflammation in the pancreas and fighting free radicals, CBD seems to help fight diabetes.
Atopic dermatitis. According to this paper, "Data are lacking on CBD in canine atopic dermatitis. Oral palmityl ethanolamine, an endocannabinoid, reduced the inflammatory response in Ascaris hypersensitive dogs (25)."
Anxiety. A particularly exciting review study indicates that it is possible to fight a variety of different forms of anxiety using CBD.
Cancer. As has been reported, "Many of the cannabinoids have antiapoptotic effects and reduce neoplastic proliferation in selected tumor cell lines. Anecdotal reports from both human and veterinary patients indicate the potential for complete remission and possibly even cure of a number of different neoplastic diseases."
The majority of animal studies involving CBD at this point have been conducted on dogs and rats. It will probably be some time before we start seeing a lot of CBD horse studies
Regardless, the benefits that we are seeing for CBD and health so far have been pretty consistent between species.
This makes sense, since the species which can use CBD all have endocannabinoid systems. We would expect them to react in a similar way to CBD.
Key Point: Currently, research on CBD oil use in animals and humans is still pretty much at the beginning. But as far as the evidence we have goes, research backs up CBD oil for treating anxiety, arthritis, epilepsy, pain and more.
Are There CBD Side Effects for Horses?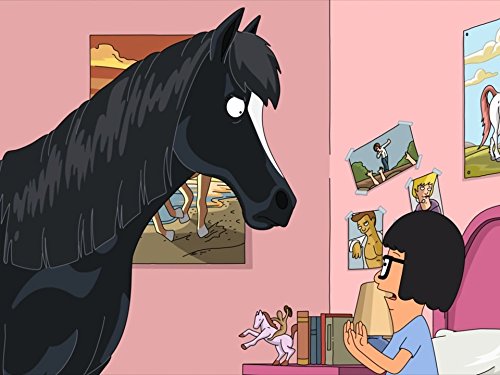 Based on research to this point and anecdotal evidence, CBD is well tolerated by species across the board, including horses, dogs, cats, and humans.
Your horse is unlikely to experience any adverse effects from taking CBD.
Worried about getting your horse high with CBD oil?
That is not something that needs to concern you because it is not CBD which produces a psychoactive high from cannabis. That is the result of a different compound called THC.
THC is only present in trace amounts in reputable CBD products from trusted manufacturers.
Those trace amounts would only add up to a possible high if you were to administer too high a dose of CBD to your horse (or another animal).
This is why it is so important that you administer the proper dose of a supplement with a concentration which is tailored to your horse.
The same goes for giving your cat or dog CBD oil. You should only use a product formulated for your specific pet.
Key Point: So long as you are administering the correct dosage of CBD oil to your horse, the treatment should be safe and side effect free. Your horse will not get high from quality CBD oil that is not contaminated with excess THC.
You Can Give Your Horse These Types of CBD Oil Products
Now that you know you can give your horse CBD, you are probably wondering what forms of CBD are available.
1. CBD Tinctures for Horses
Among the most common ways to administer CBD oil to a horse is in a tincture. Liquid formulations like these are convenient and easy-to-use. To give you a feel for what is on the market, let's take a look at some CBD horse tinctures which are available right now.
Canna-Pet
Canna-Pet has actually tested their horse CBD tinctures in collaboration with a veterinary university.
You can purchase their Canna-Pet Advanced MaxCBD Liquid in two amounts:
10 ml for $79.99
120 ml (4 oz) for $799.99
How much do you need? The company states that the 10 ml container should give you about a week's worth of doses.
So if you find that the product works for you, it makes sense to order in bulk and save some money.
Want to place a larger bulk order? Canna-Pet invites customers to get in contact with customer service directly to arrange for wholesale ordering of CBD tinctures for horses.
Honest Paws
This company manufactures a CBD tincture called Broad Spectrum Calming Oil for Horses. 
The full price listed as of the time of this writing for this tincture is $316.99, with a discount of 13% off available.
It contains 60 mg of hemp per one ml, for a total of 3600 mg of CBD.
As 100% full-spectrum CBD, it provides your horse not only with CBD, but with the other healthy compounds found in hemp.
When you order this product, you get free shipping on your order, since shipping is free anytime you order more than $40 worth of merchandise from the Honest Paws website. Your purchase also is backed by a 30-day money back guarantee.
How Do You Administer CBD Tinctures for Horses?
There are multiple ways you can give a CBD tincture to your horse. The best way is to use an eyedropper. Deposit the drops underneath your horse's tongue directly.
If you have a hard time using this method, you can try mixing the CBD tincture into your horse's food.
Key Point: A liquid tincture is one easy way to give your horse the benefits of CBD, and there are a number of quality products out there to choose from.
2. CBD Pellets for Horses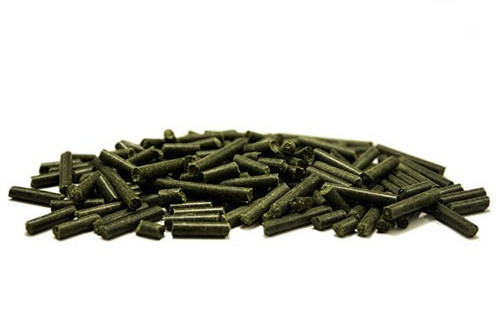 Just as you might expect, another form you can get CBD supplements for horses in is as pellets. Let's take a look at some CBD horse pellets which you can buy.
Neurogan
This company makes a product called Enriched CBD Horse Pellets, which are priced at $69.96 for a bag as of the time of this writing.
The only ingredient listed is premium full-spectrum hemp. The company states that their pellets are high in Omega-3 fatty acids, which have great anti-inflammatory benefits. The bag ships free and comes with a free serving size scoop. You get four pounds in a bag.
Innovet
Another CBD pellet product you can try is Equine Hemp PCR – CBD Pellets for Horses from Innovet.
As of the time of this writing, the price for this product is $59.99, with a discount down to $44.99. Customers who pick the "subscribe and save" option can enjoy another 15% off. This price is for a one-pound bag.
It is also possible to buy this product by the bucket for $199.99 ($139.99 on sale) with 5 pounds of pellets.
The product provides more than 1500 mg of active PCR (phytocannabinoid rich) organic hemp. A dosing guide is provided so that you can pick the right amount for your horse based on its weight.
The full-spectrum CBD was extracted using a cold CO2 process in order to preserve all nutrients without adding contaminants.
The hemp oil and extract came from hemp seeds and stalks from plants in Oregon, the UK, and Germany.
The company also guarantees that no more than 0.03% THC content is present in its horse CBD pellets, and that zero preservatives, pesticides or additives are in the product.
Getty Equine Nutrition
This company's CBD pellet product for horses is called ForeCBD Pellets.
It is a broad-spectrum CBD product made through CO2 extraction, which means that it is rich in healthy terpenes.
It also contains zero heavy metals, solvents, THC or pesticides. Indeed, it does not appear to even contain trace amounts of THC. The company specifically states, "it is 100% THC-free. This is important for competitive horses who undergo testing while showing."
The company adds in the description that "ForeFront CBD choice is from a particularly rich strain of organically US grown hemp which offers safe, yet high levels of phytocannabinoids and terpinoids."
The company also writes that, "Research has shown that extruded feeds could be as much as 30% more available than the pelleted version of the same feed and up to 40% more available than textured rations that have not been processed."
Furthermore, this product may offer a more extensive shelf life.
Pricing is as follows:
One jar: 45 scoops (25 mg each) $89.95
Buy two and save: 90 scoops (25 mg each) $176.95
SAVE the most – three jars: 135 scoops (25 mg each) $263.95
Shipping is free. Orders must be placed manually through email or phone. Current website is a bit old but they seem legit. You can see more here: http://gettyequinenutrition.biz/Products/CBDStore.htm
How Do You Administer CBD Pellets for Horses?
Giving a horse CBD pellets is pretty straightforward. It is just like feeding your horse any other type of pellets. The product you purchase should list the proper serving size for your horse based on its weight.
Key Point: If you want to make CBD a regular part of your horse's diet, CBD pellets make it easy.
3. CBD Pastes for Horses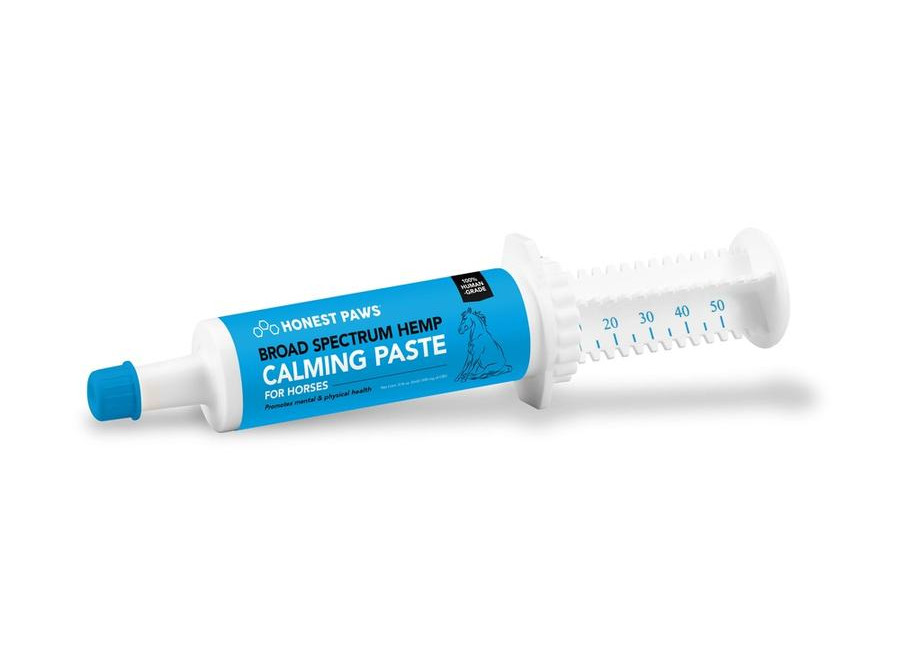 Another option which can work well if you want to give your horse the occasional dose of CBD to soothe anxiety or treat acute pain is a CBD oral paste.
Honest Paws
Honest Paws, one of the companies we recommended earlier for CBD horse tinctures, also manufactures a product called Broad Spectrum Hemp Calming Paste for Horses.
As of the time of this writing, this product is priced at $76.59, with a 10% discount bringing it down to $69.
You can get free shipping on this product since your order will be over $40. There is also a 30-day money back guarantee.
Each syringe of this product contains 500 mg of CBD.
ForeCBD Paste
Getty Equine Nutrition also manufactures a CBD paste product for horses called ForeCBD Paste.
Like the CBD horse pellets discussed earlier from this brand, it is guaranteed to be 100% free of THC, heavy metals, pesticides, and solvents.
Also like that pellet product, it is formulated specifically to offer high levels of phytocannabinoids and terpinoids.
There is no corn, wheat or soy in this product (or in the extruded pellet product shared previously).
Each tube contains 4 20cc servings. Every serving has 100 mg of CBD along with 0.5 mg of FOS pre-biotic.
It is to be administered to your horse 1-2 hours before any anxiety-inducing event is expected.
Current pricing is as follows:
One 80 cc tube: Four 20cc servings $49.95
Buy two and save: Eight 20 cc servings $93.95
SAVE the most – three tubes: Twelve 20 cc servings $137.95
Free shipping is available for all of these quantities.
How Do You Administer CBD Paste for Horses?
CBD paste for horses is to be administered orally. This can be a challenge with some horses, who may be finicky when it comes to receiving oral paste.
How can you prevent this? It is recommended that you find a way to get your horse to associate paste tubes with treats (i.e. honey). If you do this daily, your horse will not blink at the sight of the CBD paste tube (or any other supplement or medication paste tube).
This makes it much easier to administer, since you will be doing so with a horse which is calm and looking forward to a treat.
Key Point: If your horse just needs an occasional dose of CBD oil, think about administering it as an oral paste.
4. CBD Treats for Horses
What is the best option for giving CBD to a horse that tends to be fussy about supplements? Turn it into something your horse looks forward to by going with CBD in the form of a treat.
The CBD Universe
At the CBD Universe, you can purchase CBD Infused Healthy Horse Apples and Oats Treats.
As of the time of this writing, these treats can be purchased for $29.99 per bag.
A bag of these treats contains 150 mg of CBD, with each treat containing 10 mg.
The ingredients list is: Cannabidiol, Flour, Molasses, Rolled Oats, Shortening, Apple Bits, Cinnamon, Calcium Propionate
A guide to dosing is included right on the page:
Miniature (150-350 lbs) = 10 MG
Pony (500-900 lbs) = 20 MG
Horse (1,000 – 1500 lbs) = 50 MG
XL/Draft (over 1500 lbs) = 65 MG
Sierra Mojo
Sierra Mojo sells Apples & Oats CBD Treats for $24 per bag as of the time of this writing.
As with the previous product, there are 15 treats in the bag, and each contains 10 mg of CBD.
Here is the ingredients list:
Ground Oats, Wheat Middlings, Ground Wheat, Cane Molasses, Soybean Oil, Calcium Carbonate, Dried Apple Pomace, Citric Acid, Artificial Flavors, Vitamin E Supplement, Vitamin D3 Supplement, Preserved with Mixed Tocopherols (Form of Vitamin E), Rosemary Extract, Vitamin A Supplement, Citric Acid (a Preservative), Zinc Oxide, Copper Sulfate, Calcium Iodate, Magnesium Oxide, Cobalt Carbonate, Ferrous Carbonate, Sodium Selenite, Manganous Oxide.
How Do You Administer CBD Treats for Horses?
You can give your horse a CBD treat the same way you would any other type of treat. Use them as rewards, or just offer them now and again as a little something extra special.
Key Point: CBD treats for horses are a fun and enjoyable way for your horse to experience CBD benefits along with other delicious nutrition.
For some more tips, check out, Tips for Giving a Horse Dewormer or any Oral Medication
CBD Horse Supplement Action Tips
CBD products for horses come in a variety of forms, including pellets, pastes, tinctures and treats. Choose the form or forms which will be easiest to give to your horse and which are most appropriate for its condition (i.e. pellets for chronic conditions, pastes for acute conditions).
Shop for CBD horse products from reputable manufacturers that are transparent about the ingredients that their products contain and which carry out third-party batch testing.
Choose CBD horse supplements which are free of excess THC and other unwanted contaminants.
If possible, look for CBD which was extracted through the use of CO2 and which was not processed using high heat.
Be aware that certified organic CBD products for horses or any other species are relatively rare. So it is not worth looking for this certification. Instead, shop from companies that produce their products following healthy and responsible practices.
A number of factors determine the dose which you need to give your horse. These include the weight of your horse together with the concentration of the product you have purchased. Also be aware that maintenance and therapeutic dosages can vary. This means that the condition that you are trying to treat is relevant to dosing as well. Follow the dosing instructions and consult with the chart included with the product that you have selected.
Never exceed the recommended dosage of CBD oil for your horse. This is especially important when trace amounts of THC are in a product.
Do not use products formulated for humans, cats or dogs. Trying to calculate and administer the right dosage of these products would be difficult and impractical.
You Now Know Some of the Top CBD Products for Horses, and How to Administer Them
You now know all about CBD oil for horses. We have gone over what this supplement can do for your horse, what forms it is available in, and some product recommendations and tips for administering it. Click on any of the links shared in the article to buy CBD for your horse now.
Have dogs or cats you want to treat? Explore the rest of our site for recommended products and information on giving your other pets CBD. Hopefully soon, CBD will help have all of your animal companions feeling their best.
And while you're here, make sure you also take a look at –
Have a dog or a cat to keep the horses company?